Hunt Information and Rules
Even though Ford Farm is a Georgia Hunting Preserve, hunting licenses are required. We send every hunter home with a Ford Farm cooler filled with your birds. When you hunt quail at Ford Farm, you'll take home 12 birds for a half-day hunt and 18 birds after a full day.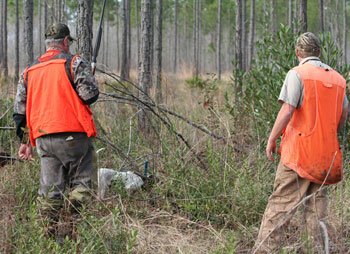 We want everyone to have a safe and enjoyable experience at Ford Farm, so there are some rules which are strictly enforced whether you're shooting quail, pheasant or skeet:
All hunters must wear a blaze orange hunting vest or cap during the hunt.
All hunters are required to attend a brief safety meeting and obey all safety rules.
Hunters between the ages of 12 and 15 must be accompanied by a supervising adult. Only one person may hunt at a time.
No alcoholic beverages are allowed until all shooting is done.
No smoking inside any of the buildings on the property.