Come go hunting with hunters
Here in South Georgia, no other sport can match a good quail hunt. Ford Farm is known for its well trained dogs and excellent quail. Ralph Berryhill, our chief guide and dog trainer (and tall-tale teller) has trained dogs for over 40 years and put on thousands of hunts. Ralph and his staff are passionate about hunting and take great pride in working the dogs. When the leaves rustle and the covey flushes, you'll know it's about more than shooting.
At Ford Farm our motto is, "Come go hunting with hunters." Full and half-day packages are available. A typical hunt starts around 8:30 am. Hunters are carried to the field where they spend three hours hunting Bobwhite Quail. Around noon, it's back to the lodge for a hearty southern style meal. Our afternoon hunt runs from 1:30 to 5:00 pm.
Each of our fully equipped hunting buggies can accommodate four guests, two guides and four to eight dogs. We encourage hunters to walk while hunting but this can be held to a minimum if necessary. Our hunting guides are skilled and have years of experience. They love the sport and are dedicated to providing hunters with a memorable hunting experience.
New! Continental Pheasant Hunts
Our Continental Pheasant Hunts are great for people who want something different. You and 14 of your friends will be challenged to make the perfect shot against the erratic flight of the pheasant. This fast paced sports shooting is a great way to spend leisurely time with friends or associates.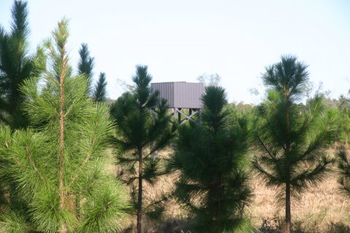 Skeet Shooting
Skeet shooting is an excellent way to sharpen the eye and your shooting skills. Many of our overnight guests like to shoot a few rounds between arrival and dinner.
Dogs and Kennels
Our dogs love to work the fields and fence rows looking for quail. Ralph Berryhill has made a career of raising pups and training great bird dogs. Any hunter who has experienced a pair of stylish dogs working together and backing on point, knows that watching the brace is almost better than shooting the bird. If you'd like to bring your own dogs for the hunt, we have kennels available.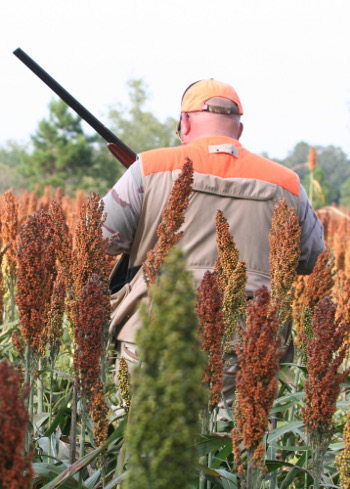 South Georgia, Bobwhite Quail Country
Around 2,000 acres of South Georgia farmland is managed to provide the Bobwhite Quail with a premium wildlife habitat. Game patches and food plots are mixed with palmettos and sagebrush to offer birds natural cover. Cross Creek flows through the property and provides running water for a variety of wildlife as it winds on to the Alapaha River. Our eight hunting courses are laid out through natural pine woodlands and planted fields.